Shijiazhuang Sdyano Fine Chemical Co., Ltd. is a company specializing in the production and management of electronic chemicals and fine chemicals of high-tech enterprises, the characteristics of products for PDLC liquid crystal. Products sold at home and abroad, is one of the few earlier R & D and production of PDLC manufacturers of professional, We have ten years of development history. Now the foreign customer development supporting 30 series of products suitable for a variety of different parameters, one of the biggest bright spot is characterized with HD, high refractive index, low threshold voltage, and good low temperature performance of PDLC LCD products. Mainly used in the production of dimming glass (smart glass), transparent display, advertising and other areas of electronic window.
In the rapid development of science and technology in today's society, our co-operation with major domestic well-known institutions, has formed a strong R & D and production team, according to the different needs of customers to customize, tune PDLC film production and processing film, currently in Division I PDLC LCD has certain size, we completed a new 300 square meter super purification plant, adding a new testing and compounding equipment, Passed the ISO9001 international quality management system certification and has import and export rights, after years of research and development efforts, our products have been exported all over the world, mainly concentrated in South Korea, Taiwan and Japan USA, Spain and France and other places, by the majority of the new and old customers.
We insist onmarket - oriented, high-tech products as the core, to develop green industry. With the world, continue to develop new products to meet customer demand, welcome friends from all over the world come to visit and give guidance exchanges and cooperation, to jointly promote the greater development of new material industry.
Product Introduction
1.Product Introduction
Product features PDLC LCD, PDLC is the abbreviation of polymer dispersed liquid crystal. Polymer dispersed liquid crystal (PDLC) is a low molecular liquid crystal (liquid crystal, abbreviated as LC) and prepolymer mixing, under certain conditions, the polymerization reaction, the liquid crystal to form micron droplets uniformly dispersed in the polymer network, and then use the dielectric anisotropy of liquid crystal molecules obtained with electro-optical response characteristics the main work and materials, it has some gray between scattering states and transparent state. Polymer dispersed liquid crystal films is liquid crystal and polymer bound to get a comprehensive performance of membrane materials by adjusting the proportion of different crystal liquid crystal film thickness in order to change the crystal and polymer mixture ratio, the phase separation time, temperature and the frequency of driving voltage, so the product in different temperature clear operation, thereby to meet different customer demand.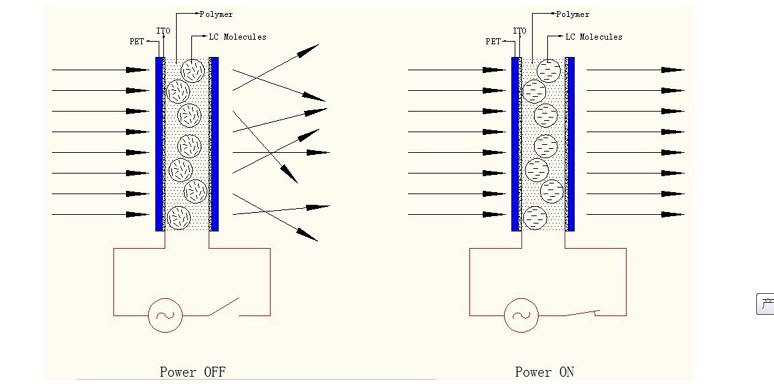 PDLC liquid crystal light modulation glass is in fact the PDLC liquid crystal light adjusting film interlayer between two layers of glass, the terminal application products autoclave or one-step pressing molding furnace. Electricity transparent using PDLC liquid crystal film, power features frosted, commercial space decoration, which is widely used in a variety of privacy protection hotel decoration, projection display fields (Introduction)

Light control film (STF), also known as a liquid crystal film PDLC (Polymer Dispersed Liquid Crystal), is a rod-like polymer liquid crystal (liquid crystal, abbreviated as LC) is mixed with the prepolymer, and it has the characteristics of a liquid crystal, and significant optical characteristics, in the case where there is no electric field, the molecule is disordered array opaque state, and its molecules arranged in order in the electric field along the electric field direction, so that it has a light transmitting, by controlling the electric field can be control the switch between transparent and opaque state.
STF Works:
STF structure is in the middle of two sheets of ITO conductive film is sandwiched mixture of liquid crystal and polymer, the polymer reticular, at the gap at the liquid crystal composition is filled with a liquid crystal droplet. Liquid crystal molecules within each liquid crystal droplet are arranged identical, forming a uniaxial liquid crystal body, but different liquid crystal droplets haphazard arrangement of the optical axis. ITO conductive film is sheet-like surface of the polyester film coated with a conductive layer of ITO, a conductive effect. When the light through the ITO conductive film, along the propagation direction of the sequence over a network polymer, the liquid crystal droplets, network polymer, the liquid crystal droplets, etc., in the absence of the electric field, the optical axis of the liquid crystal droplets disorganized arrangement, such that occurrence of Mie scattering of light in the liquid crystal droplets and the polymer network interface, thereby rendering opaque state, under the action of an electric field, the optical axis of the liquid crystal droplets ordered, so that light can penetrate the liquid crystal droplets and mesh in polymers, thus showing a transparent state.